Designed to enhance your performance through improved support and alignment, ALINE is perfect for every activity. The only insole that gives you active alignment
Overview
Not all house slippers are the same. There are flimsy slippers that function more like socks, and then there are support or structured slippers. The former may work for some people, but anyone with recurring or chronic foot or heel pain needs the latter. They're just as easy to slip on and off as unsupported slippers, but they provide the stabilization you need for safety and comfort.
When you add ALINE slipper insoles, you have the best of both worlds. ALINE insoles support your lower body's natural alignment while taking comfort to new levels. You can enjoy the support of a good sneaker while lounging around the home in your cozy slippers.
If you don't experience routine foot or heel pain, you may still prefer slippers with more foot support. They're perfect for running out to grab the paper or check the mail. You may also want more structured slippers when you spend time in outdoor living spaces like decks or enclosed porches.
Specs
Engineered ribs flex and rebound to allow your feet to move freely during any activity.
Biomechanically enhanced structures mean your feet have support where and when it's needed.
Patented activation and compression zones keep your feet and lower body aligned during every step, jump, twist and turn.
Heel cup with gel pad holds your heel securely while providing shock absorption.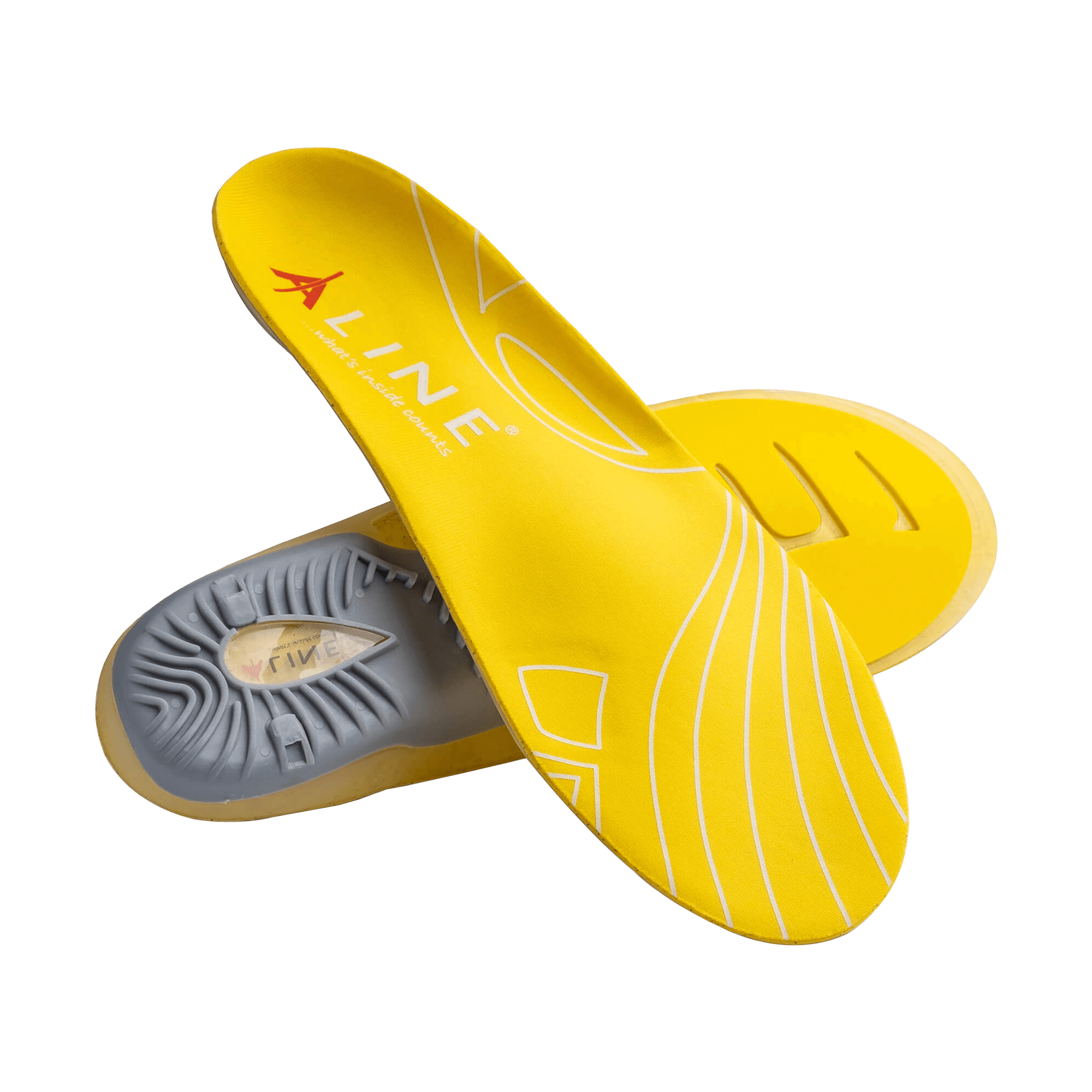 Customer Reviews
09/09/2023
Joanne M.

United States
Great insoles
My husband loves them
12/26/2022
Michael M.
Chicago, Illinois, United States
Excellent Orthotic
Podiatrist here Great, high quality product that would be beneficial for many! Very supportive and offers fantastic support in the arch. Would recommend and have started recommending!
12/22/2022
D M.
Los Angeles, California, United States
Love them!
The extra cushion and support is great!
11/22/2022
Jerry W.
Victoria, British Columbia, Canada
So far... Great
Have worn a few hours in my low hikers. Very comfy and supportive thus far. I need more time I them and to try in running shoes.
11/21/2022
Stephen L.
Cape Coral, Florida, United States
Great product
Gordon was wonderful