Designed to enhance your performance through improved support and alignment, ALINE is perfect for every activity. The only insole that gives you active alignment
Overview
Trekking takes you over streams, through thousands of trees, up intense mountains bursting with life, and, ultimately, to picturesque views you just won't find back home in the safety of your home. There are exhilarating moments mixed with work so hard you just focus on breathing and push through the discomfort. And you count on your feet to carry you through every step.
Your choice in footwear will determine your comfort level whether your trekking adventures are close to home or in another country. Whether you're hiking mountains or going long distance on flat terrain, you need sturdy boots or shoes that provide comfort, balance, and arch support. Hiking boots may provide some of that, but you need ALINE insoles to maximize foot protection.
ALINE insoles are designed to support lower body alignment while you're in action. They utilize unique technology that stabilizes your feet through all the hard work that comes with trekking. With the right insoles, your feet will carry you through the next trekking adventure with greater support and perhaps fewer aches and pains when the fun is over.
Specs
Engineered ribs flex and rebound to allow your feet to move freely during any activity.
Biomechanically enhanced structures mean your feet have support where and when it's needed.
Patented activation and compression zones keep your feet and lower body aligned during every step, jump, twist and turn.
Heel cup with gel pad holds your heel securely while providing shock absorption.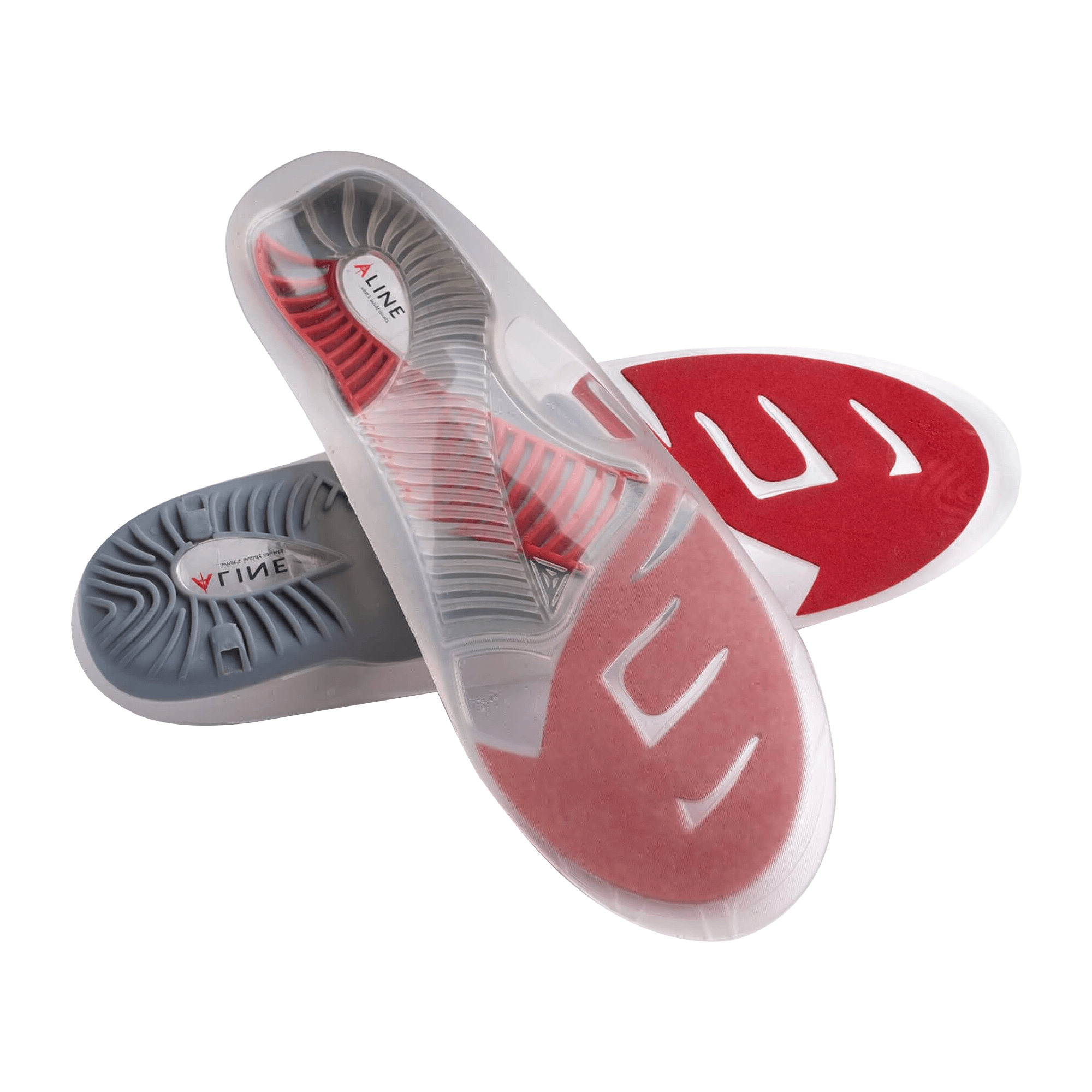 Customer Reviews
Order your ALINE inserts today
Cosmos Chiropractic Care sells these inserts so call us today & see why they are 5 star not only for professional athletes but weekend warriors as well!! Doc Cosmos approved ✅ drcosmos.com
09/19/2023
Robert R.

United States
Products was good. Shipping was just crazy
The Aline insole is of good quality and I have noticed an immediate difference while using the insole. However, it will take a little getting used to but my custom orthotics from my teen years also took an adjustment period. Overall if I saw these at a local store I would consider purchasing them again. I would never purchase them directly from the Aline website as I did with this pair. The Aline website charged a premium for shipping and then used a first mile delivery service to get them to the USPS for final delivery. Delivery. What would have taken maybe 3 or 4 days to get to my location with the USPS, took over a full week to get to my location. Tracking had them sitting at times for days and when they arrived in state only about 100 miles away they sat for two days before finally transferring to the USPS. The shipping fiasco has deterred me from further purchases of product from the Aline website store. If you pay for shipping seems a simple phone call to the post office for a pickup would be the best method and not trying to save a buck at the customer expense.
08/19/2023
JT

United States
Never looked back!
Have used ALine orthotics since 2008. As a runner with very flat feet, I had suffered from chronic IT band pain for over four years. Couldn't get past four miles. Tried virtually every stability shoe and every orthodic available and was about to give up running. Found ALine online and decided to give it one last try. Immediate relief! Was able to do a half marathon that year and after several more years of running, I've never had another IT band issue. I recommend them to all runners who suffer any foot pain. Truly the best!
12/22/2022
Anne L.
Ipswich, Massachusetts, United States
Instant gratification!
My massage therapist suggested that I buy Aline shoe inserts, because my feet were constantly hurting. I expected that any potential improvements would take a while, but was surprised to notice a major difference on my first walk wearing them. My weight seemed better distributed and the sharp pain that I was feeling immediately subsided. I still feel some pain, and suspect that I might have to see a doctor, but the shoe inserts that I've purchased seem to be helping me heal and they make walking a lot more manageable now. I actually want to buy more inserts for my other shoes, as these are very comfortable, and a pair for my mother as well.
12/14/2022
Colin R.
Albany, New York, United States
Exceptionally comfy!
Very very comfortable insoles. Total game changer. Could be optimized further by incorporating dense gel to overlay the surface and add a hefty amount more gel around the heel. Overall phenomenal product!