Designed to enhance your performance through improved support and alignment, ALINE is perfect for every activity. The only insole that gives you active alignment
Overview
Any damp or wet work environment requires non-slip shoes, but the protection doesn't end with the outer soles. It's also critical to support those soles with non-slip work insoles. ALINE insoles are easy to insert and allow you to take advantage of advanced technology that supports your body's natural alignment. The result is a more comfortable shoe fit and superior protection against slips and falls. Your feet and legs may also experience fewer aches and pains after a long day at work, thanks to the support of ALINE insoles.
If your favorite non-slip work shoes have uncomfortable insoles or those insoles tear up much faster than the outer shoe, ALINE is the perfect replacement insole. Any shoe with a removable insole will allow you to switch out to ALINE when needed. You may also use them in addition to the shoe's branded insole if you need more support or just want to maximize comfort for those long days on your feet.
Specs
Engineered ribs flex and rebound to allow your feet to move freely during any activity.
Biomechanically enhanced structures mean your feet have support where and when it's needed.
Patented activation and compression zones keep your feet and lower body aligned during every step, jump, twist and turn.
Heel cup with gel pad holds your heel securely while providing shock absorption.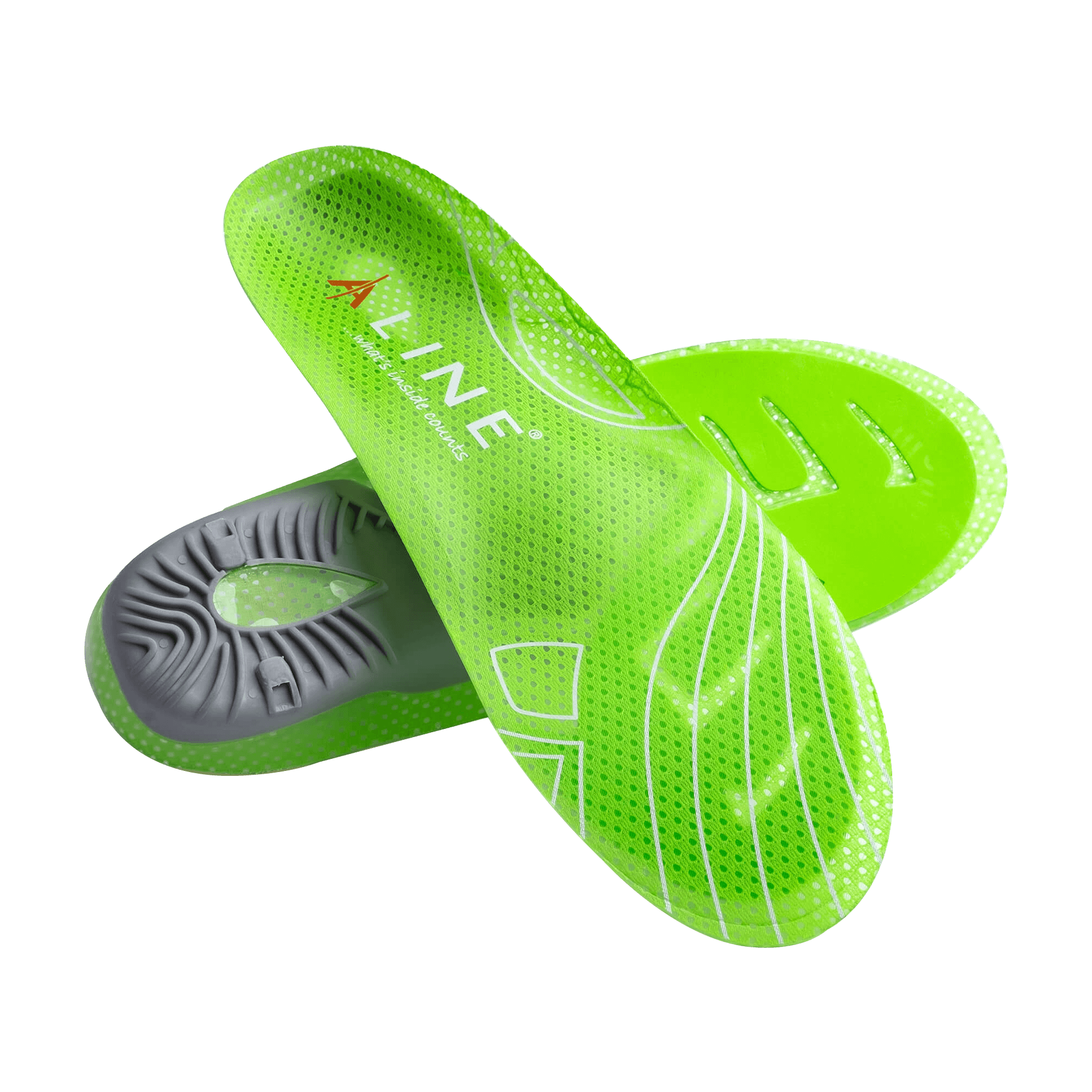 Customer Reviews
08/24/2023
william b.

United States
Insoles
These inserts did not work for me. unfortunately I have a ruptured arch and there was not enough support for my feet. I had to go back to my Good Feet supports. I was hoping these would work for me, but that is not the case. I would like to return them, if you could tell me how , I would appreciate it. Phone number 503 819 5609 Bill Bradley Looking forward to hearing from you.
12/06/2022
T. Lacey Bove
Westminster, California, United States
Walking in air
Outstanding addition to my training tools. I loved the laser assessment! Best insole fit and purchase ever. Beats Good Feet insoles! Thanks for keeping my kinetic chain in alienment!!
11/28/2022
Michael S.
Tampa, Florida, United States
Most Amazing insoles I have every used
I met Gordon at a Tony Robbins event. He got with fitted with the proper inner soles. With 36 hours my feel we're feeling better then ever. I Loved them so much when I got home a bought two more pairs. I work on my feet sometime 18-20 hours a day and I keep recommending them to everyone on the job. These are totally awesome and highly recommend them to any need some good foot support. Thanks Aline and Gordon.
11/20/2022
Kathy C.
Chester, Virginia, United States
Pain free
I have had problems with my knees for 50 years. Since wearing these, not only do my knees not hurt but my legs do not feel tired. Amazing!